Venice has always been thronged by tourists. Considered as 'the most romantic city' in Europe, the city is visited for its renaissance inspired architecture and gondola rides.
Of late, the high number of tourists visiting the city has started to pose problems. The tourists' stay at Venice is a mere touch and go. Most of the tourists are day trippers who land in the city in the morning or arrive by sea in cruises, spend the day venturing into the lanes of Venice, buy a few souvenirs, click a few pictures, have a heavy lunch and leave as the day ends. The ones who stay back spend only a night or two. Venice used to be a place for connoisseurs of art, music and architecture. The day tripping culture does not chime in very well with the legacy of the city. Also, the increased day trippers is impacting the local population's life style. With heavy traffic and crowds on the roads, the city if losing its peaceful atmosphere that it once enjoyed.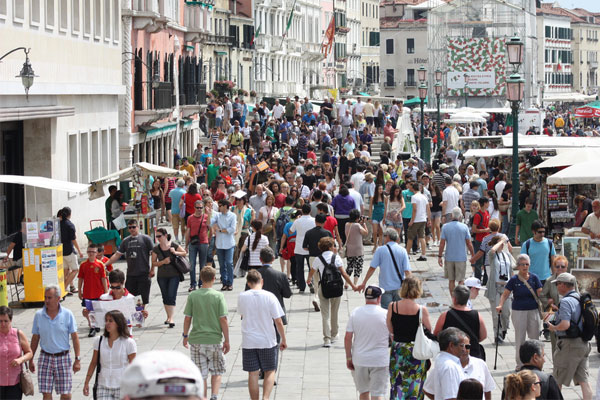 The increased day tripping tourists have also led to hyper growth of hospitality industry in the city. The experience of a romantic quiet evening on a gondola is turning into a carnival of 'people hopping site seeing locations and pubs'. This has made other industries suffer as well. The locals are now preferring to move out of Venice.
In a move to encourage people to come to Venice for longer visits, a local university professor Massimo Warglien, came up with an idea to start a 'work from Venice' initiative. Professionals from across the world were invited to visit Venice for a comfortable accommodation. All the facilities required for working online are made available. A gradual shift from hosting a day tripper to inviting a qualified professional who stays in the city for a few weeks. An extended stay duration enables a sustainable business for hospitality industry and allows the tourist to experience the subtleties of the city.